Mohammad Arif Jafari, a 25-year-old disabled man, is a native of Bamyan province in Afghanistan who moved to Herat with his family when he was young. Jafari went illegally to Iran to earn money to support his family, and as a construction worker had an accident on a building site. Since then, his left leg has been paralyzed. He says: "When I returned home and my family saw my condition, especially my mother cried a lot and was very sad and suffered for a long time".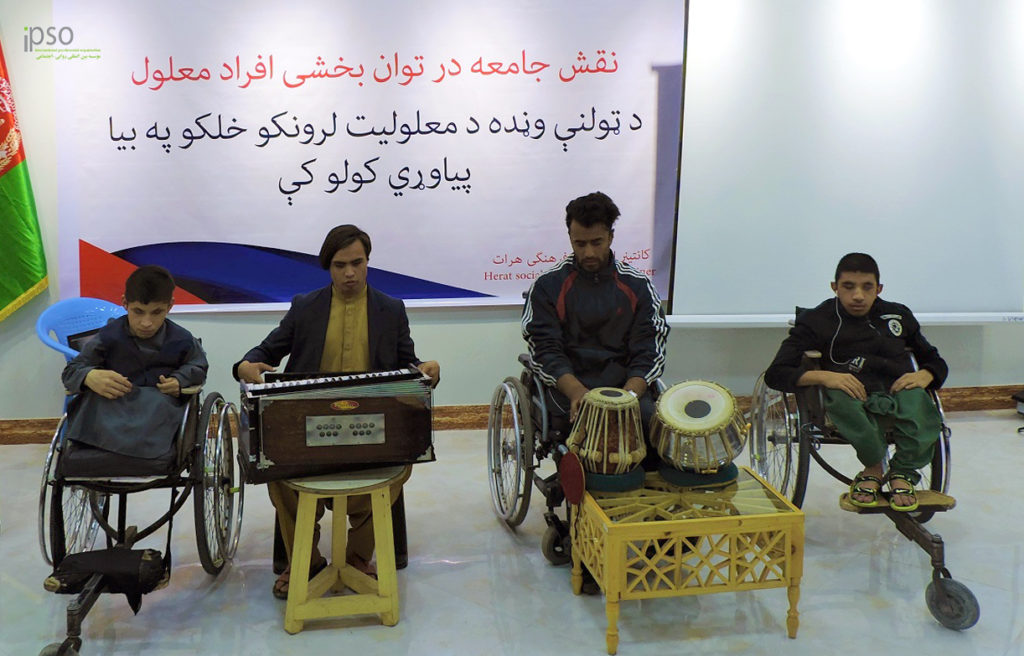 "My family decided to continue my education, but when I went to school, I was always harassed by other students due to my disability," Jafari explains. "They were making negative comments about my disability, which affected me badly and sometimes I wanted to quit my education. But in the end, I decided to fight these problems and bring about a positive change in negative perceptions towards disabled people in society so that people would give them a chance to fulfill their wishes through their talents."
The Young Leaders in Herat have conducted several social activities in Shaidahi Camp, Qala-e-Naw, and other societies to empower people with disabilities, such as cultural dialogue, theater and subject-related games at the community level, and working with community members to address these issues. The aim was to bring about positive change in society so that people fulfill their social responsibility to empower people with disabilities in their society.
Mahdi Halimi, one of the Young Leaders, explains: "People with disabilities are a part of our society. Their disability is the result of internal conflicts, migration through illegal routes and war. These problems have caused many of them to be deprived of education and participation in daily life and social activities. There is a need to find a fundamental solution to these problems through dialogue with the people at the community level and to empower people with disabilities in the community", Halimi said.
Hadiya Hameed, another young leader, says: "People who have disabilities have the same rights as other people in the community. If the community is not motivated to help them, at least they should not make their lives difficult. Society has a responsibility to motivate disabled people as much as possible and to encourage them to fulfill their aspirations and make full use of their talents. During our programs we invited many people with disabilities, such as Jafari, who have achieved success despite their disabilities, to show people that a person with a disability can still fulfill their aspirations."
Hadyia gives another example: "Najib and Jamshid who are both disabled are well talented in music and singing. We invited them to perform at our events so that they could show their talents to people who have negative thoughts about disabled people. The musicians were praised for their performance. People clapped their hands and enjoyed the singing with the music. Many in the audience changed their minds about disabled people".